About Us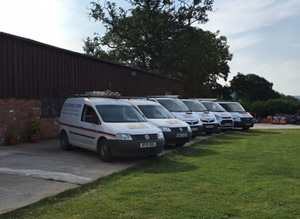 BD Atkins & Son was established in 1980 by Mr. & Mrs. B Atkins. Mr Atkins had previously worked for Gascoigne Melotte as a parlour fitter, service engineer and sales representative, and in 1980 decided to go self employed and started B.D. Atkins & Son.
Today B.D. Atkins & Son is run by Ralph, their son who has over 25 years experience within the dairy industry, and his wife Julie, who although she joined the company a little later, takes on the role of technical support and technical installation engineer.
We are proud and excited to be in at the foundations of a new venture into dairy farming and milking parlour management in conjunction with Boumatic Robotics.
We are a small team of dairy engineers consisting of Ian Bowe who has been with us for over 10 years; Jonathan Willcox, Sam Keeble and Malcolm Davies. Together we form a dynamic workforce enabling us to provide a high quality of service to our customers.
We are primarily agents for Boumatic Gascoigne Melotte, and Milfos – however, we are never afraid to help with other milking systems in Powys, Shropshire and the surrounding areas. We also liaise closely with Collinson, ADF Milking, ATL Technology, Agroserve Dairy Chemicals.

We provide a wide range of services within the dairy industry, from the installation of a complete new parlour e.g. Herringbone, Swingover and Rotary or even robots and also second hand equipment. We also carry out parlour testing to BS6690 standard, electronic repairs, and provide comprehensive 24 hour breakdown cover on site or in the case of technical breakdown remote assistance. Recently we have become Parlour Safe Accredited, please visit http://www.milkingsystems.co.uk/parlour-safe/ to read more about the accreditation.